Traditional Braces – Hopkinton, MA
Straighter Teeth, Better Bite
Traditional metal braces are far from a new concept of course – in fact, there's evidence that they've been around for centuries – but throughout the years they've retained their status as the "gold standard" treatment for mild to severe cases of orthodontic misalignment, crooked teeth, and uneven bites. If you have a child, getting them braces now could mean the difference between a healthy, happy smile and severe complications as they grow up. Schedule your first appointment today by calling our orthodontic office for traditional braces in Hopkinton, MA!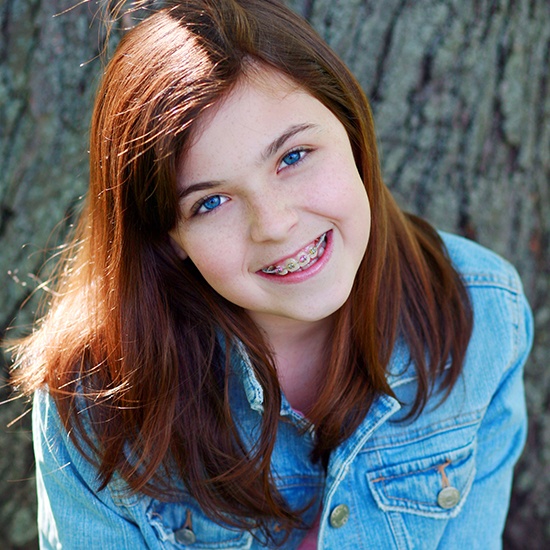 What Should I Expect from Traditional Metal Braces?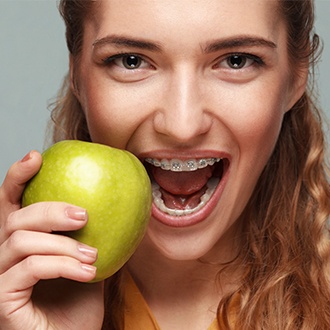 At the beginning, we need to check your teeth and jaw to confirm the nature of your orthodontic issues; some patients might have unique complications. Depending on what was found, we'll schedule an appointment for the braces themselves to be attached to your teeth. Your enamel is thoroughly cleaned and dried, and the brackets are attached to the teeth with a special bonding material. The wire slides through the brackets and connects them; we'll trim the ends so that they don't poke you in the gums. The final step is to wrap elastic bands (which are colored according to your preferences) around the brackets to hold the wire.
How Long Can You Expect Treatment to Be?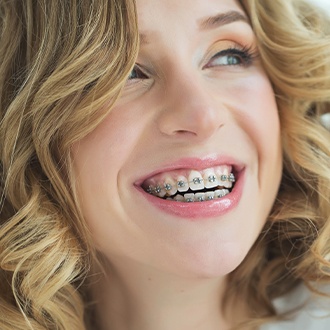 There's no one answer to this question; it depends largely on the complexity of your situation. Factors that could affect treatment time include:
The amount of room available for the teeth to move
The number of teeth that need to be adjusted
The distance the teeth need to travel
Your ability to practice good oral hygiene at home
Compliance with your orthodontists' instructions
Most of the time, braces are worn for about one to three years. However, you won't be done at that point; to stop the teeth from shifting back, you'll need to wear a retainer for at least 6 to 12 months afterwards.
Are Traditional Braces Right for Me?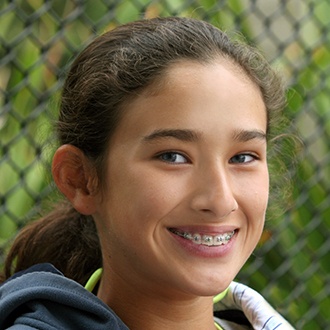 Rotated teeth as well as crooked, misaligned, or uneven bites are common indications for traditional metal braces. Of course, a detailed examination is required before we can decide whether or not they're appropriate in your child's case. One of our orthodontists will need to figure out how severe the issue is before deciding to move forward. A minor complication might be addressed with an orthodontic service that has a shorter treatment time. Simply Orthodontics Hopkinton has plenty of options and alternatives that you can look at so that you can take the time to pick the best one for your unique situation.
Understanding the Cost of Traditional Braces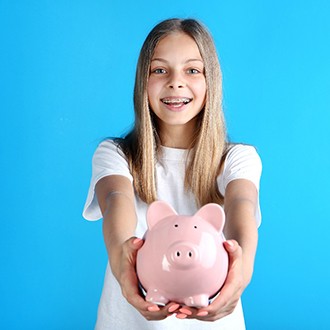 The total cost of traditional braces depends on the details of your treatment. For example, a case that lasts just one year will, of course, be less expensive than a case requiring multiple years to complete. During your consultation, our team here at Simply Orthodontics Hopkinton will be able to evaluate your situation and provide you with a personalized cost estimate. In the meantime, the following information may help you to anticipate what will be involved in paying for your treatment.
Factors That Affect the Cost of Traditional Braces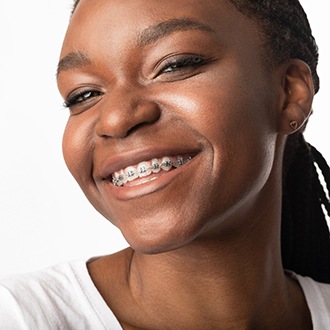 Several factors can impact the cost of braces, including:
The severity of your misalignment: This affects treatment length, what type of accessories you will need and more. It is the most significant contributing factor to the overall price of braces.
Age: Adults' teeth tend to move more slowly than those of teenagers, which can make treatment more complex and slightly more costly.
The number of appointments needed: Braces must be adjusted periodically throughout the treatment. How frequent your appointments are can influence the total cost of your care.
Compliance with treatment guidelines: Failing to wear your elastics or eating food that damages your braces can delay your treatment and incur extra expenses.
Professional Braces vs. "DIY" Braces: Which Costs More?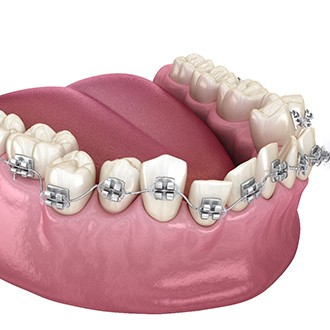 You might have seen reports on social media about people who have created their own "braces" using household objects, such as fishing line, Super Glue and paperclips. At first, such methods might seem like a feasible solution for saving money, especially if you are on a tight budget and don't want to spend thousands of dollars on professional braces.
However, extreme caution is in order. Many people who have tried DIY braces end up worsening their dental misalignment. They may also harm their tooth enamel and gums. Correcting such issues can be much more expensive and uncomfortable than investing in professional treatment in the first place.
Does Dental Insurance Cover Braces?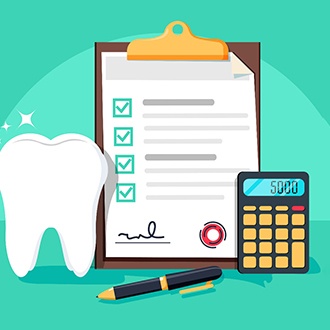 Some higher-end dental insurance plans cover braces. Typically, such plans have a lifetime orthodontic maximum, which covers 50 percent of the cost of treatment up to the given spending limit. A few plans limit their orthodontic coverage to patients under the age of 18 or 19.
Our team will be happy to help you navigate your benefits and file your claims. If your plan does not cover braces, you might consider using your flexible spending account or healthcare savings account to pay for them.
Another Option for Making Braces Affordable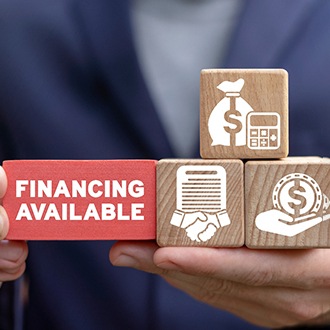 If you don't have insurance coverage for traditional braces in Hopkinton, consider this to make it easier for you to afford them:
Financing: We are partnered with LendingPoint patient financing, which helps make getting the smile you want for yourself or your child easy and affordable. There are options for no down payment and low monthly payments.
Are you ready to learn more about braces and their cost? Contact our team today to schedule your free consultation with our orthodontist.
Traditional Braces FAQs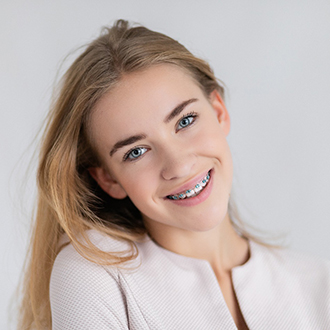 Whether you've had braces in the past or this is your first orthodontic treatment, it's natural to have questions about the process and what to expect during the teeth-straightening process. Our team at Simply Orthodontics – Hopkinton is always here to help however we can, but we also know that many patients enjoy doing their research online too. That's why we've dedicated this next section to answering FAQs!
What Can You Not Eat with Traditional Braces?
There are a few things that you cannot eat with traditional braces. Although this may seem like a nuisance at first, the dietary restrictions are in place to help protect you from an orthodontic emergency, like a broken bracket or loose wire. With this in mind, patients are encouraged not to eat anything hard, crunchy, or sticky, including raw nuts, pretzels, taco shells, and popcorn. It can also be helpful to stick to soft foods (i.e., scrambled eggs, oatmeal, yogurt) in the hours or days following your adjustments.
Am I Too Old to Get Braces?
Technically, there's no such thing as being "too old" for braces. On the contrary, orthodontic treatment comes with benefits for patients of all ages, including improved self-esteem and bite. Furthermore, adults often are the best patients because they understand the importance of good oral hygiene and following all of their orthodontist's instructions. Simply put, if you are interested in traditional braces, don't let your age stop you from scheduling a consultation.
What Happens After You Get Your Braces Off?
After your braces are removed, you'll be able to see your beautiful new smile without the brackets and wires! Then, you will move onto the next phase of your treatment: wearing your retainer. This orthodontic appliance is very important because it helps prevent orthodontic relapse. This phenomenon refers to your teeth moving back into their previous positions, and it happens to upwards of 50% of patients within 10 years of completing their treatment. To prevent that from happening to you, make wearing your retainer a life-long best practice.
Do Traditional Braces Hurt?
To be honest, orthodontic treatments – including traditional braces and Invisalign – come with some soreness. Don't get discouraged though. The discomfort is temporary and can easily be alleviated with an over-the-counter pain reliever. Plus, if you experience any irritation from your brackets and wires, you can cover the sharp edge with dental wax. In short, the minor soreness you experience is no reason to put off straightening your teeth and achieving the beautiful smile you desire.
How Long Do Traditional Braces Take?
There are several factors that need to be considered when discussing the length of your orthodontic treatment, including how severe your misalignment is and how old you are. Naturally, the greater distance your teeth need to move, the longer your treatment will take. Similarly, the older you are, the more firmly your teeth are set in place. Of course, we will take these factors (as well as several others) into consideration when creating your treatment plan. That way, our Hopkinton orthodontist can provide you with a more accurate estimate.