Invisalign – Hopkinton, MA
More Freedom, Improved Appearance
With metal braces, you'll need to make a lot of changes to your daily routine, including how you brush your teeth and what kind of foods you can eat. However, if you don't have a particularly severe case, you might be able to benefit from Invisalign clear aligners. These highly trusted appliances can be taken out of your mouth when necessary, and they'll blend right in with your smile. Call us today to learn more about Invisalign from our Hopkinton, MA orthodontist to see if you qualify for it.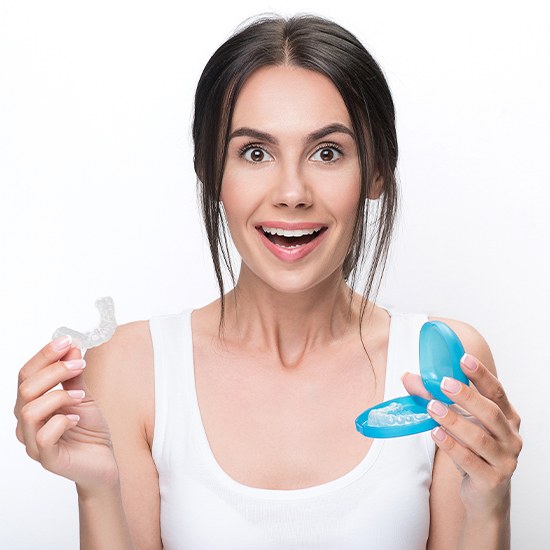 How Does Invisalign Work?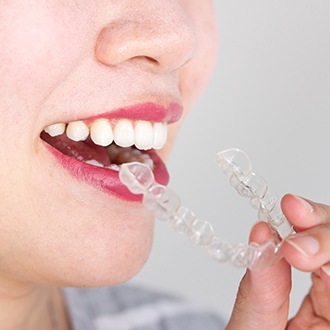 At the beginning of the treatment, you'll receive a series of clear plastic trays. They're worn for about 22 hours per day, allowing them to slowly push the teeth into position; every two weeks, you'll move on to the next stage of the treatment, which means wearing new trays. Since all the trays are made from the start, the number of visits that you'll need to make to our orthodontic office will be kept to a minimum. The main treatment can take several months, and a retainer will be required afterwards so that the teeth stay in their new position.
Life with Invisalign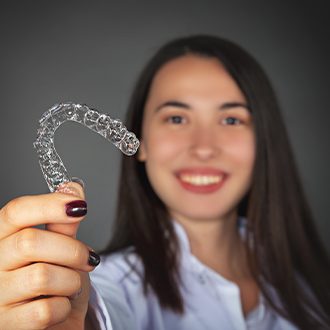 Ideally, Invisalign trays should stay in your mouth for at least 22 hours a day; at the very least, you should never wear them for less than 20 hours. Otherwise the necessary shifts won't happen, and your smile won't reach the straighter, healthier position that you're trying to achieve. You need to take your aligner out of your mouth whenever you eat or drink anything besides water; you will also remove them when you need to brush and floss your teeth. Also, in order to make sure the trays don't become discolored, it's important that you clean them and store them in the provided case whenever they're not in your mouth.
Is Invisalign Right for Me?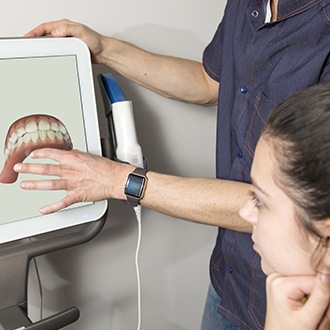 Invisalign can be used to address many different orthodontic treatments, but there are some cases (such as severe misalignment, a badly uneven bite, or crooked back teeth) where traditional braces will be the more reliable option. Also, children typically cannot use Invisalign since their permanent teeth have not fully erupted yet. Teenagers, on the other hand, are eligible once their teeth are finished growing. Bear in mind that since Invisalign is removable, your own compliance to the treatment is more of a factor; you may want to consider other options if you don't believe you have the discipline to leave the trays in your mouth for at least 22 hours each day.
Understanding the Cost of Invisalign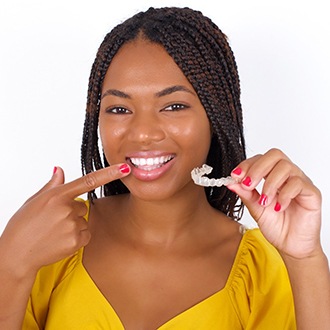 You've learned about how Invisalign works and what life with clear aligners is like, but how much does it cost? Pinpointing an exact answer without a consultation is quite difficult. That's because no two treatment plans look identical. Luckily, that doesn't mean finding the answer will be stressful. To learn some helpful cost-related information, read on. Otherwise, you can get in touch with our team directly!
Factors That Affect the Cost of Invisalign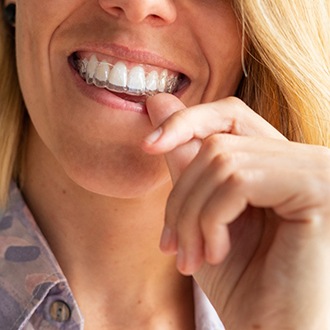 To provide you with a cost estimate, our Hopkinton orthodontist needs to conduct a thorough dental exam. From there, they can determine:
The severity of the misalignment
Whether you need to straighten one arch or both
How many clear aligners are needed
If any additional accessories, like rubber bands, are required
Of course, other factors will come into play once you begin treatment. For example, if you neglect to wear your aligners for 22 hours a day, then you'll likely fall off-track with your original timeline. This can result in additional costs, so follow all of the Invisalign guidelines for the sake of your smile and your wallet!
Invisalign vs. Smile Direct Club™: Which Costs More?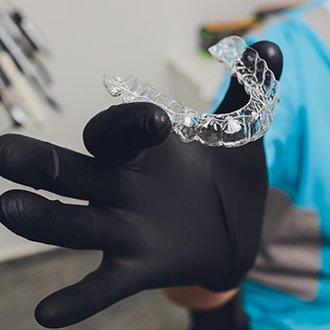 When it comes to cost, DIY braces companies, like Smile Direct Club™, are certainly cheaper. Of course, there is a reason for this. Patients who opt for solutions like these miss out on thorough exams, professional impressions, and in-person appointments with a licensed orthodontist. Furthermore, the countless lawsuits and worsened misalignment that patients have experienced have resulted in notable organizations, like the American Dental Association, cautioning patients not to proceed with treatment. In short, while Invisalign in Hopkinton may require a higher upfront investment, it also means you'll benefit from the same reliable and safe treatment that's helped more than 12 million patients so far.
Does Dental Insurance Cover Invisalign?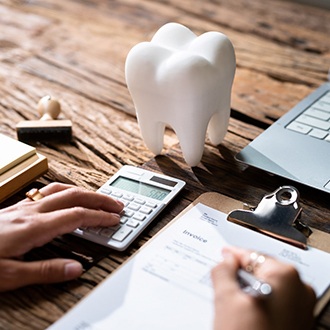 Wondering if your dental benefits will cover a portion of the cost of Invisalign in Hopkinton? They might! Some plans include a once-in-a-lifetime orthodontic benefit that helps lower the out-of-pocket expenses of those looking to discreetly straighten their teeth with Invisalign. If you're insured, we can help you utilize your coverage. We're proud to welcome Aetna PPO, Cigna PPO, Guardian, Humana, and several other popular insurance providers.
Options for Making Invisalign Affordable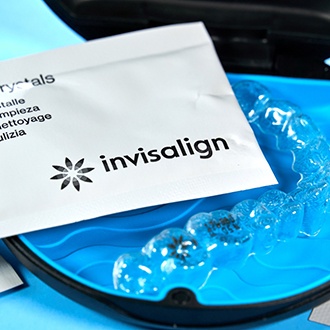 Don't have dental insurance? That's okay – we offer two additional ways to help make Invisalign more affordable:
Special Offers – With us, you can get quality orthodontic treatment and save big. In fact, we offer periodic specials, like $550 off Invisalign! To learn about our latest offers, reach out.
Flexible Financing – You don't have to pay for your treatment in one lump sum. CareCredit allows you to choose a payment plan that suits your budget – sometimes with little-to-no interest!
Invisalign FAQs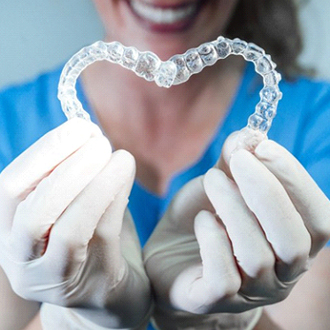 Everyone wants a great smile with evenly spaced teeth. Not only are straight teeth often considered more attractive, but they can decrease your risk of cavities since they make your teeth easier to clean. These days, you don't even have to wear a mouthful of metal to attain a straight smile, thanks to Invisalign. Before you begin treatment, it's important to be well-informed about how Invisalign works. That's why we've answered some frequently asked questions about it down below.
Is It Painful to Wear the Aligners?
When you first start wearing the aligners or switch to a new set, it's normal for your teeth to feel a little bit sore at first. This is actually a sign that your treatment is working. Invisalign straightens your teeth by exerting a gentle pressure on one section of your smile at a time. It shouldn't hurt, per se. It should feel more like a "pressure," and it should subside after a couple of days. If it doesn't, then give us a call.
Will the Aligners Affect the Way I Talk?
In the beginning, it may sound like you have a minor lisp. Your tongue will need a few days to get used to the way the aligners feel in your mouth. After that, your speech should sound exactly the same as it did before.
Can I Get Invisalign If I've Previously Worn Braces?
In most cases, yes. Many adults had their teeth straightened with traditional braces when they were younger, but have since forgotten to wear their retainer. As a result, their teeth may have shifted back to a misaligned position. If this happened to you, chances are you would make a good candidate for Invisalign. After all, the braces probably corrected the more significant alignment issues, so Invisalign won't have quite as much work to do. Schedule a consultation with us to discuss your options.
How Do I Keep the Aligners Clean?
It's important that you clean the aligners daily. Not only can leftover food residue cause staining that makes your treatment noticeable, but it can trap bacteria between the trays and your teeth, increasing your risk of cavities and gum disease.
A great way to disinfect the aligners is to soak them in an Invisalign cleansing system or lukewarm water while you're eating. Never use hot water – it could change the shape of the plastic. Additionally, it helps to gently scrub your aligners with a toothbrush (without toothpaste) and a clear antibacterial hand soap at least once a day.